Login Options
We recommend that you use the most current version of your browser. It is a good idea to maintain your browser by keeping it up to date.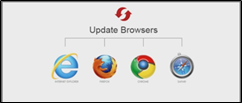 * The software provider of a browser site regularly updates their browser. When they do so the older versions eventually are no longer supported by that provider. Therefore, once they no longer provide support for a specific version, then we also will no longer support operation of our site in that version.
Enter the URL provided by CommunityForce in any internet browser. Add the URL to your favorites list for quicker access.
Click on the Login link displayed on the top right corner of the screen.

The following screen will display:
Enter the credentials (Email and Password) provided by CommunityForce and click on the Login button. Passwords are case sensitive. Please make sure you type the password in exactly as it was provided to you.