Overview of the Manage System Messages Report
Administration > Manage System Messages
All system messages will display in a list report format. You can view and edit each system message (except the message code), and except the list to Excel.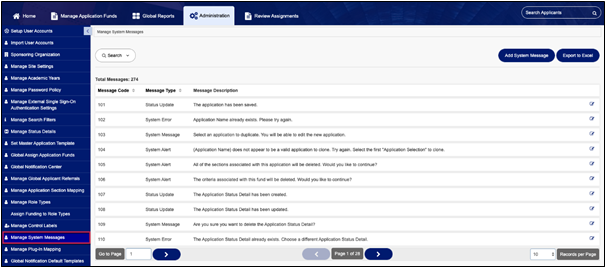 Additional Information about the System Messages report
The

t

otal number of Messages displays on the left above the report. 

Your

CommunityForce

system comes preloaded with 271 system messages.

Click the 

Search

 button to display three fields you can use to search for specific system messages. Please see the Search article for more details. 

Click the 

Add System Message

 button to create a new message.

Click the 

Export to Excel 

button to download a file containing selected or all status details. Please see the Export Report article for more details.

The report sort order can be changed by clicking the up/down arrow symbol next to the heading in any column.

Click the Add/Edit link to add a new or edit an existing language translation for the message.

Click the 

Edit

 (pencil) icon to make changes to a specific system message.

Use the navigational tools located below the report to move through the pages or change the number of records displayed per page. 
Report Column Descriptions 
Message Code: System messages are numbered sequentially beginning with the number 101. The Message Code ties the system message to a specific workflow in the system and cannot be changed. 
Message Type: Examples of message types are Status Update, System Error, System Alert, and Warning.
Message Description: The description contains the message that will display to users when the message type is triggered. For example, when a user clicks the delete button to remove a record, the message that displays in the confirmation message is pulled from the message description.