Add Donor Information
Home > Manage Application Funds > Setup Funding
In order to use the Donor Feature in your funding source, your Global Admin must first select Yes for the Enable Fund Donor feature in Administration > Manage Site Settings > Grants/Fellowship Settings.
If using the Thank You Letter question type and sending Acknowledgements to your Donors in that process, you will need to set up the Donor Information to capture the Donor Email address.
Once this feature is activated it can be accessed two ways:
1) When first creating your funding source and after you click Save & Next, the Donors screen will display once you have added a Contact and clicked Next on the Contact screen. If the Contact feature is not activated, then the next screen will be Add a Donor.

2) Existing Funding Source: When viewing the funding source listing, click on the name of the funding source to which you want to add a donor. Scroll to the bottom of the page to view the Donors section.

To add a donor:
1. Click on the Add A Donor button. The Add/Edit Donor screen will display.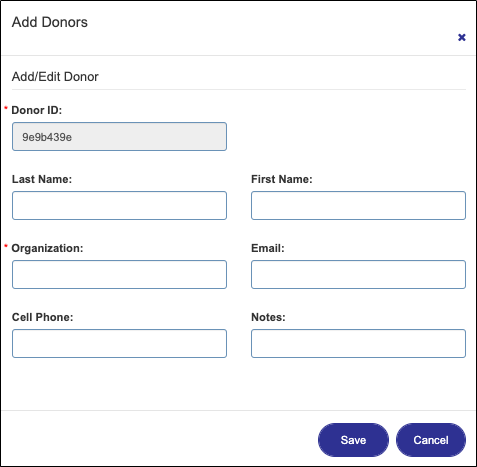 2. Enter the donor information and click Save. The donor's information will now display in the Donors section.

Repeat these steps for each contact you want to add.
To edit the donor click the blue pencil icon. To remove a donor click the blue trash can icon. To change the display order of a list of two or more donors, click the up or down arrow to move the donor.