Multiple Submission applications allow you to submit multiple applications forms using your same login credentials to apply for the same funding source.
Step 1: Login and Click the Apply button for the funding source you want to apply for.
Step 2: Once you click the Apply for the first time on that application the following box will appear: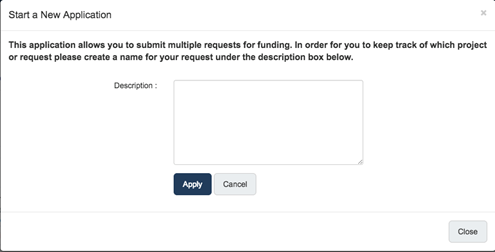 Step 3: You will need to give a description to each separate apply submission by entering an identifying description in the Description field.
This description will help you keep track of which submission is which in your My Applications Tab, so that when you return you know which one to click on.
Step 4: After you have entered your description, click the Apply button to continue.
Step 5: You will now be directed to the application form to begin applying as usual.
Step 6: Each time you want to start an additional submission, you will need to search for the application again, and select the Start a New Application.

Step 7: Each time you click the Start a New Application on the same application, the Start a New Application Request Description will appear for you to enter a new description for each submission.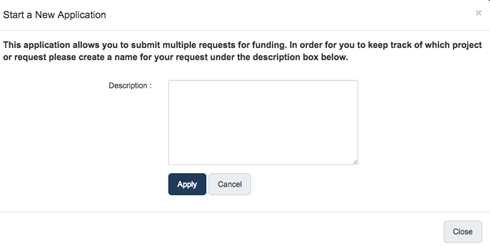 Step 8: When you want to continue with the same application you would click the Continue with Application and a box will appear for you to select which application you want to continue with:


Step 9: If you have started multiple application forms, each application's instance will appear in your "My Applications tab".