Search for Committee Members
Home > (Select - Application Name) > Manage Applications > Manage Committees > Committee Name 
Once you are in the Committee Members section you can search for the committee members you want to assign to a specific committee. 
Important: To assign someone to a committee they must first have a user profile created with a reviewer role type or have a role type that has access to the Review Applicants icon in the Home dashboard. You can add those users' profiles in Administration > Setup User Accounts, or while in the Committee set up, as explained below.
The listing in the column to the left will includes all existing users that can be assigned to the committee listed in the Select Committee field. The column on the right includes the committee members that have already been assigned to the selected committee.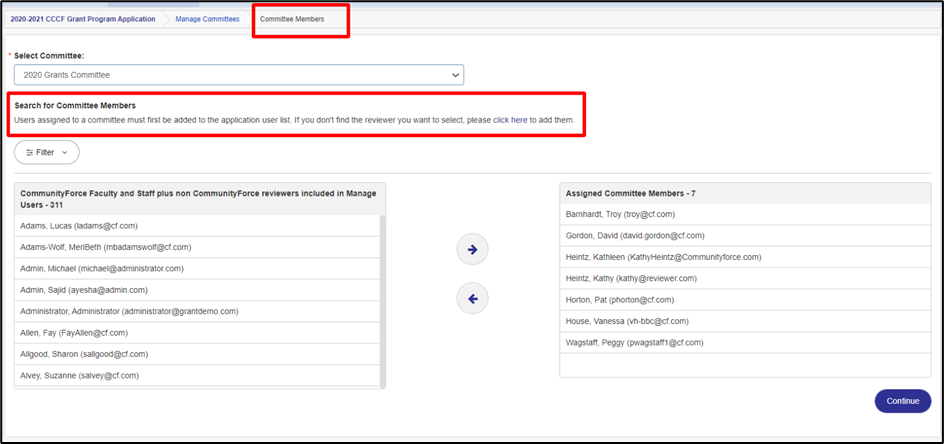 To quickly locate a user in the list on the left, (users available to be assigned to the committee), click the Filter button. Enter at least the first few characters of the user's first or last name, or email address in the fields provided. You can also select the organization to which the user belongs. Click the Search button to refresh the users displayed in the list on the left. 

If you cannot locate the user using the Filter/Search method described above, you must create a new user. Click the blue text click here link to open the Add Committee Member screen.

Once you complete the form and click one of the save options, the new user will be created in the system and will be included in the list of available users to assign to a committee. 
Fields marked with a red asterisk require a value. 
If this user will be a reviewer only, select the Reviewer Role Type. Otherwise, if the user will be a staff member that needs access to additional areas, select a Role Type that includes access to the Review Assignments tab on the Home page.
Save creates the new user but keeps the Add Committee Member window open. Save & Exit creates the new user and closes the Add Committee Member window.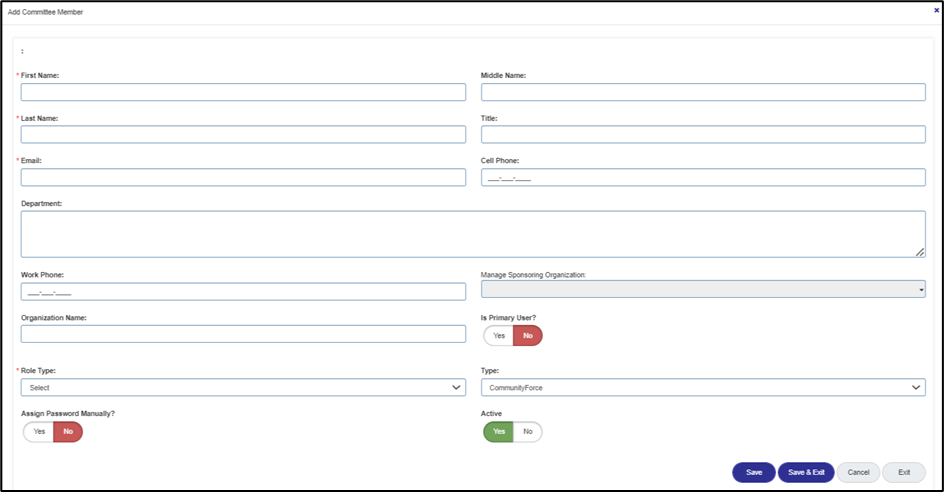 Locate the new user in the list on the left and click the right-facing arrow to add the user to the list on the right (users assigned to the selected committee). Click the Continue button to save the changes and return to the Manage Committees listing.