Question Type - File
Home > (Select - Application Name) > Application Settings > Sections and Questions > (Select - Section Name) > Select - Add Question
File question types are used when you require that a document be uploaded and attached to the applicant's application (i.e., transcript forms, FAFSA, photos, letters, budgets, etc.). The applicant will click the Browse button next to the question and select the document to be uploaded from their computer.
When you select the File question Type the Files Allowed field will display. Select all the file extensions for the types of documents you will accept for this upload. File types available are Excel, Image, PDF, and Word.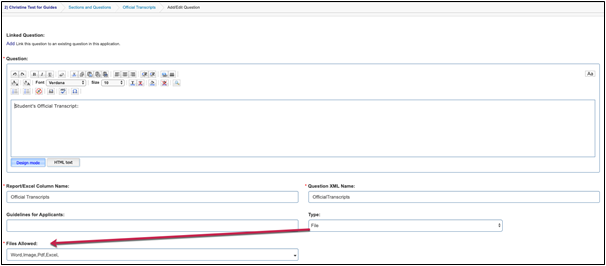 Note: If you are using the PDF feature, it is recommended that all uploads be formatted in portrait mode, sized to 8-1/2" x 11". Only files less than 10mb can be uploaded to the program.
An example of the File question type, as displayed on the application, is shown below.