Question Type - Phone Number
Home > (Select - Application Name) > Application Settings > Sections and Questions > (Select - Section Name) > Select - Add Question
Allows for a phone number format of: xxx-xxx-xxxx, (xxx) xxx-xxxx, or (xxx)-xxx-xxxx. This does not allow for international formatting and, therefore, a text box must be used if international numbers are needed.
When a required value is a phone number, you can use the Phone Number question type to force a specific format to be used when the applicant enters their phone numbers.
When you select the Phone Number question type, the Select the format field will open. Select the format you want the applicants to use when entering phone numbers.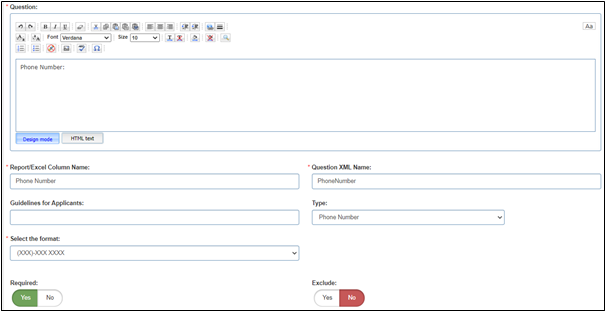 An example of how the phone number field will display for applicants is shown below.