Create a Custom Nomination Template
Administration > Global Notification Center > Create Template
Create a custom nomination template when you need an email template for an application Request section.
To create a custom nomination template:
1) Click the Select an Application field and click an application name to select it. 
2) Click the Create Template button. 
The page displayed is the same as the Edit page. However, because you are creating a new template you will be able to change the Template Type (Custom/System) and edit the Template Name.
3) Select Add New Nomination Template in the Copy an Existing Template or Create a New field.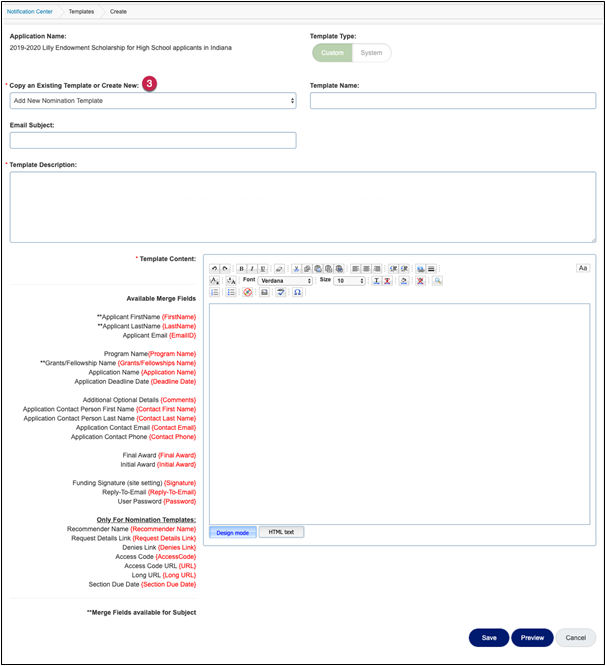 Additional Notes
If you only have one request section in your application form it is best practice to edit the default templates instead of creating a new Nomination template. There are two standard nomination templates that are pre-loaded and available for use with your request section: 
Application: Request from Applicant – 

This is the System Default email template for your Request sections.

Application: Request for Signature – 

This is designed specifically for a Request section that is being sent to capture a signature of a specific individual other than the applicant.  
If creating a new nomination email template to be used in a Request Section Nomination Template, consider the following:
Are you including the additional merge fields so that the recommended individual has all the items needed to effectively connect to that section?

If using more than one request section, are there different email messages you need to send for each separate section? Do you need to create the templates for these?

Be sure to connect the correct template to the correct request section in the section setup.
Additional merge fields for the custom nomination template are available at the bottom of the merge fields list to the left of the editor's box.